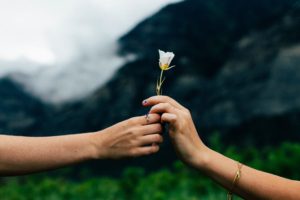 I am learning where my boundaries are as a writer. God is so graciously enclosing me behind and before and laying His hand upon me. He has given me boundaries out of His love for me and His purpose for my writing so my creativity will flourish and define my unique approach to storytelling.
I write stories about make believe people in an imaginary land who live in simplicity yet go through improbable situations that somehow parallel our lives. No matter the characters and the plot, my stories have the same theme. It is the core message the Lord has given me to share: You can trust God.
In The Land Uncharted, Lydia and Connor had to trust God's sovereignty. In Uncharted Redemption, Levi and Mandy had to trust God's forgiveness. In Uncharted Inheritance, Bethany and Everett had to trust God with their future. In Christmas with the Colburns, Lydia had to trust God with her family. When I went back in time to tell the history of the Land, the same theme flowed. In Aboard Providence, Jonah and Marian had to trust God's unfailing provision.
I've heard writers muse about writing for an audience of one. While that sounds uber spiritual—and famously singable—I don't write for God. I pray I write for God's glory, meaning what I write points the reader to God's redemptive plan. But I write for the readers who need to hear the core message He has given me.
I hear from readers in their eighties and in their late teens, but most are in their thirties and forties. My readers are mostly women, but occasionally I hear from men. From the messages my readers send, I know many are similar to me in temperament, ideals, and dreams. I've learned a few other things about my average reader too…
She grew up reading or watching Little House on the Prairie. Though there was a 50/50 chance her parents had divorced, she dreamed of someday marrying a man like Charles Ingalls. She was raised in a Christian home or was around the Christian faith enough it affected her thoughts and conscience. She might be a devout Christian now, or she might be seeking God (whether she realizes it or not). She loves to learn but doesn't want to be preached at. She enjoys American history and is enthralled by herbal remedies and organic gardening, even if she doesn't have the time or skill to keep a houseplant alive.
She wishes life were simpler and fantasizes about throwing her phone out the car window on the commute from work to her kid's ballgame or her zillionth errand or a chemo appointment. She dreams of homeschooling her children on a self-sustaining 40-acre plot in the middle of nowhere while she still has time with them or about raising the children she is still trusting God for in a simple lifestyle or about getting her daughter-in-law to limit her grandkids' screen time. Either way, she grits her teeth when she pays the bills each month and sees how much money is spent on data.
In all of this yearning for a simple life, she curls up in bed at night with a book to escape the clutches of click bait and reality television. She might not be in her own bed. I've received enough letters from readers to know it's likely she's reading in a hospital bed or sitting beside a loved one who is in hospice.
The book she chose to read tonight probably has a sweeping landscape on the cover and maybe a woman in a dress from a bygone era. It's usually a paperback, but it might be an ebook because she didn't have the energy to get to the bookstore or library. If it is an ebook, she wishes it were a physical book for the feel of the paper and the smell of the ink. She imagines reading it by the light of an oil lamp with the thud of horse hooves stamping onto her property, announcing the return of her faithful husband from some noble and manly adventure.
She might have a husband who is truly noble and faithful, or he might have left her for a career or mistress or alcohol or Heaven, or he might not be in the picture yet or never will be. She might have regrets or she might be at peace with her relationships. Regardless, she believes people—men and women—can and should treat each other in a chaste, temperate, charitable, diligent, patient, kind, and humble way. She wants those qualities exemplified in the books she reads while she dreams of her own noble adventures.
Wherever she reclines and whatever pain she is in, she reads for comfort and encouragement. She reads to know she is not alone. She reads for someone to show her: you can trust God, even with this—whatever her "this" might be.