Aboard Providence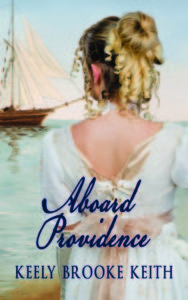 In November 1860, Jonah Ashton boarded the Providence with a plan to escort his family to their new settlement in South America and then return to medical school in Pennsylvania before rumors of Southern rebellion erupt into all-out war. What he didn't count on was getting lost at sea… and Marian Foster. When they finally reach land, Jonah makes a startling discovery that changes everything, but will it change his heart?
Aboard Providence coming October 2016 from CrossRiver Media.
Pre-order paperback here: CrossRiver Media
Pre-order ebook here: Amazon
---
What authors are saying about Aboard Providence…
"A delightful adventure reminiscent of Swiss Family Robinson, Aboard Providence is one of those novels that will stick with me because I feel I've lived it. Winsome characters pulled me into a compelling storyline that had me thinking What if a colony of Christians really had embarked for lands unknown, right before the Civil War broke out? A captivating, well-researched, and deftly written tale I can confidently recommend to a wide range of readers." –Heather Day Gilbert, author of Amazon Norse bestseller God's Daughter
"With vivid settings and multi-layered characters, Keely Brooke Keith whisks her readers off on a page-turning journey, not just across the ocean, but within the heart. You won't be able to put Aboard Providence down until the final word is read and then you will long for more." –Brenda S. Anderson, author of the Coming Home series
"A blend of history and romance with a compelling inspirational message, Keith expertly weaves an intriguing tale. Fans of the Uncharted Series won't want to miss this journey." –Heidi McCahan, author of Unraveled
"Keely Brooke Keith is a master storyteller, weaving adventure, love, and wonderful characters into a vivid story that will take readers on an unforgettable voyage to a new place. Full of inspirational messages and tales of God's love, readers will find themselves longing for more. Keely's story teaches all of us that the journey is just the beginning!" –Christina Yother, author of the Hollow Hearts series
The Uncharted storyline begins in the 21st Century in a hidden land that was settled in the 1860s by Americans. Throughout the Uncharted books, the characters refer to their founders' history. Soon after the release of The Land Uncharted, readers expressed their desire for more. Why did the founders leave America in 1860? How did they plan the group migration? Where did they believe they were going? How did they establish what is now a fascinating culture?
I too was drawn by the founders' story. When I set out to write it, I enjoyed fleshing out the mystery of how the founders arrived in the Land and what it was like for them, not only for the characters who wanted that adventure, but also those who didn't. I became swept away on a journey of faith, sacrifice, and God's unfailing provision.
The result is Aboard Providence (CrossRiver Media, 2016). Join me and the founders as we embark on a voyage to an uncharted land.