My Books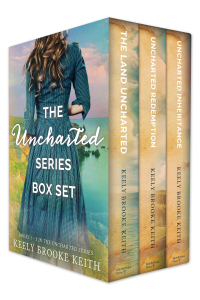 A hidden land settled by peaceful people
The first outsider in 160 years
After seven generations of isolation on an uncharted land in the South Atlantic Ocean, the descendants of American pioneer families receive their first visit from the modern world. Join Lydia, Levi, and Bethany as they discover their purpose, find love, and try to keep the Land hidden.
---
"A unique concept, a mix of science fiction and historical romance, and it works… an original concept that reflects Christian values without being preachy." —The Christian Manifesto
"Keith has created a unique story with several intriguing twists and turns that will keep the reader turning pages, wondering what will happen." —Author Culture
"In The Land Uncharted, debut author Keely Brooke Keith uses… a setting to anchor a mystery/romance story that transcends time and place." —Semicolon
"If you enjoy intriguing suspenseful romances, The Land Uncharted is for you! I highly recommend to anyone looking for something both fresh and interesting." —Will Bake For Books
---

Though the Uncharted series is set in the 21st Century, the inhabitants of the  Land have a history that begs to be told.
Why did the founders leave America in 1860? How did they plan the group migration? Where did they believe they were going? How did they arrive in the Land and establish what is now a fascinating culture?
Join the founders as they embark on their journey to an uncharted land…